With tax refund money in-hand (sort of. Close enough. You get what I mean!), I was able to do some heavy soap-shopping, which is very exciting (after some bills and groceries and ((UGH)) ordering new parts for my gaming rig. Ew.). Here's what I'm getting, hopefully very soon!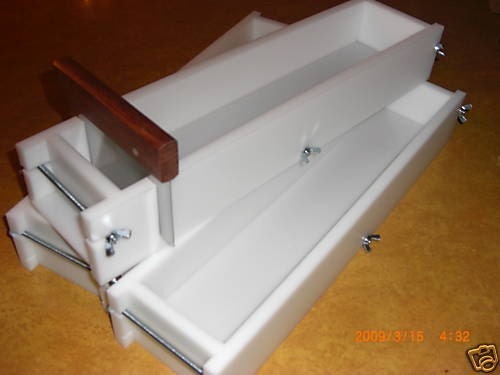 This is my first purchase from Mrdoright, and hopefully (although I've noticed people either LOVE these or HATE these, with no middle ground) they will work for making several large batches at the same time. I'll hopefully be setting up a wholesale client account with a lady around 45 minutes away from me, but still -- very cool!

This is the other item I got from Mrdoright, so I can make beautiful column and peacock swirls in something bigger than a 9x9 silicone brownie pan. I love my brownie pan, so don't get me wrong, but it's become my "test batch" pan.
I really want to start shrinkwrapping my soaps, since it's easier than putting them in a cello bag, trimming the bag, and then taping it all shut gift-style. OY! So time consuming. And thanks to Soap Queen's tutorial on wrapping soaps with plastic wrap, this should do the job nicely!
I also ordered several micas from The Conservatorie, very excited! They're some of the pigments that Kenna uses over at
Amathia Soapworks.
I've been very jealous of her lovely, shimmery, and very very VIBRANT colors, so I had to order some to try for myself!
QUICK! For other soapmakers reading this, Essential Depot has their lye on special for 1.99/2lb container, plus 9.96 shipping. This is the cheapest lye option I've found, so I ordered 5 of them (since you get an extra 5$ off -- and 10 lbs goes a looong way!)
This came in just yesterday, YAY! I had been using a cheapo all-plastic stick blender, and though it worked well, cleanup was annoying. There was always dry soap somewhere in a nook or cranny. I'm excited to be able to detach this one.
I was also able to go ahead and by my Magic Swap Express items for both my CP and M&P soap swap! I will be shipping all 24 of my made bars out early next week! <3
More soaping may happen tonight in my 5lb wood mold and my 4lb vertical mold, we'll just have to see.
Have a lovely evening, fellow soapers, and HAPPY SOAPING!